[ad_1]
Submitted by Phil Cornell/KA7FRZ for Olympia Amateur Radio Society
OWhat is amateur radio, really?
Ever wonder why the truck in front of you has a funny license plate and a bunch of weird antennae on the roof? How about seeing a neighbor with all kinds of antennas in the yard and on the roof? Who are these people?
We are amateur radio amateurs who have chosen a hobby that involves many aspects of communications. We are members of an organization called "OARS" (Olympia Amateur Radio Society). Our club is associated with the organization ARES (Amateur Radio Emergency Service)/RACES (Radio Amateur Civil Emergency Service) of Thurston County which assists with emergency communications at various locations throughout the county.
One of the most important parts of our hobby is emergency communication. If we were to have the disaster that is predicted in the recent Cascadia Rising exercise, it would be utter chaos. Land lines would be cut, cell phone networks would be overloaded, the internet would be blocked, police and fire department communications could be overloaded. Hams to the rescue! We practice regularly for emergencies like this. An example of our practice took place on the weekend of June 24-25, called "Field Day". It is aptly named because we set up our stations in the field and simulate emergency conditions – conditions that would exist if we had just experienced a major earthquake.
Field Day – Ham Radio Open House
Each June, more than 40,000 radio amateurs across North America set up temporary transmitting stations in public places to demonstrate the science, skill and service of amateur radio to our communities and our nation. It combines public service, emergency preparedness, community outreach and technical skills into one event. Field Day has been an annual event since 1933 and remains amateur radio's most popular event.
The objective is "to work as many stations as possible on all amateur bands (excluding the 60, 30, 17 and 12 meter bands) and to learn how to operate in abnormal situations under less than optimal conditions ". (http://www.arrl.org/field-day Copyright 2017, American Radio Relay League, Incorporated. All rights reserved.)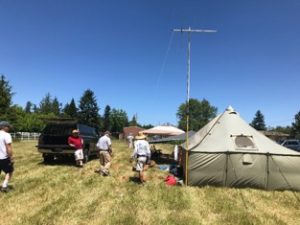 As noted above in the ARRL quote, this is the biggest amateur radio event of the entire year. We spent months planning, weeks testing antennas, all for a successful release.
This year we hosted our "Field Day" at the home of Duane Braford/WB7ROZ. Duane has a very nice piece of land where we set up several tents, awnings, antennas, generators, solar panels, oh, and of course, radios! The goal of Field Day is to make as many contacts, to talk to as many other radio amateurs as possible in a 24 hour period. It's a grueling test for equipment and personnel, and we look forward to it every year. This year Field Day was the hottest weekend we have seen in a long time, the temperature at the site on Sunday reached 98°! No, we don't have air conditioning! It definitely matched the ARRL's description of "less than optimal conditions."
The preparation began at 11:00 a.m. on Saturday with the raising of several antennas. As soon as an antenna was in place, operators plugged in radios and began to establish contacts. The 24-hour period began at 11:00 a.m. on Saturday and continued uninterrupted until 11:00 a.m. on Sunday. With all the antennas in place, our operators began to search for other radio amateurs across the country.
Art Taylor/KL7SK, for me, made the most impressive contribution in ensuring the safety of OARS members and others on site. For example, he took it upon himself to make sure we stayed hydrated while lifting the antenna mounts and we took a well-timed break at noon. As the work progressed, he seemed constantly on the move to identify, mark and mitigate potential hazards. On top of that, he found time to make a number of contacts with (and perhaps despite) the encouraging words of a few of us listening over his shoulder. Good work Art!
We had invited several members of our local political leadership but, due to the excessive heat, their attendance was minimal. Several members of the public stopped by to find out "what the poles (antenna mounts) were for".
We are taking what we have learned here and improving our radio operating skills. This is done so that we can be prepared to provide all the communication assistance we can in the event of a disaster.
How can we help? I'm glad you asked. Radio amateurs believe in the spirit of community service and we practice a lot. We are good at what we do. Our hobby is not just a hobby, it's a passion for experimentation, technical knowledge, social interaction and community service. That said, there are plenty of ways to help out in an emergency. We can take your name and message a family or friend out of the area to let them know you are well. We can coordinate with first responders to evacuate seriously injured earthquake victims. We can pass on information about where first responders are needed. We can coordinate recovery efforts and help get life back to normal. These are just a few of the ways we can help during a disaster.
So the next time you see someone talking into a portable radio, with lots of antennae on their vehicle with the weird license plate, or lots of antennae in their yard and on their roof, be thankful that he chose to take up this hobby. One day your life may depend on an amateur radio operator.
You can see us at events throughout Thurston County throughout the year. Some examples of what we do:
Olympia Arts Walk with OlyMEGA
Lacey Spring Funfair
Communication support for the Capital City Marathon
Booth at Lacy Fireworks on July 3
Booth at the Thurston County Fair on August 2-3
From August 11 to 15, Bigfoot Ultra Marathon
21—Total Solar Eclipse Day
September 16 and 17 – Salmon Run
October 20, 21, 22 – Live Scouting Jamboree
November 17 – Boy Scouts Night Hike
"When all else fails…amateur radio is here! »

[ad_2]
Source link